bachelorette / stag party
Hen and stag party on boat
Impress the bride or groom. Organize a stag or hen party on a boat
HEN FEEDING BACHELORIAN GULF ARANCI
Activities for Hen and Stag parties
One of the most beautiful moments in life: organize an unforgettable hen / stag party with an exclusive excursion that will leave indelible memories for all participants. Before any wedding, one of the biggest preliminary events is the bachelor and bachelorette party, a time when you get together with all your closest friends.
The hen party by boat is a popular choice to make sure you have a fun and exciting party with friends before the bride-to-be gets married. A bachelorette party on a boat is a really good idea as it offers a unique and memorable experience. The group can enjoy the panoramic sea views, sunbathe and have a relaxing time while also organizing fun party activities on board.
Some ideas for a bachelorette party do a baptism of the sea all together, organize a theme party, play games, enjoy drinks and snacks and have a photo shoot. So if you are trying to plan a bachelorette party and want to organize a fun and memorable party, DST Sardegna in Golfo Aranci has what you need.
A tailor-made itinerary with the most beautiful coves
The thrill of a very first diving experience
a unique dinner in a restaurant in Tavolara
from the boat to the beach with catering ready
Dolphin sighting and aperitif
Sighting excursion with aperitif on board
Contact our team and agree on the activities you want to do to make this event unforgettable. We will build a perfect day together.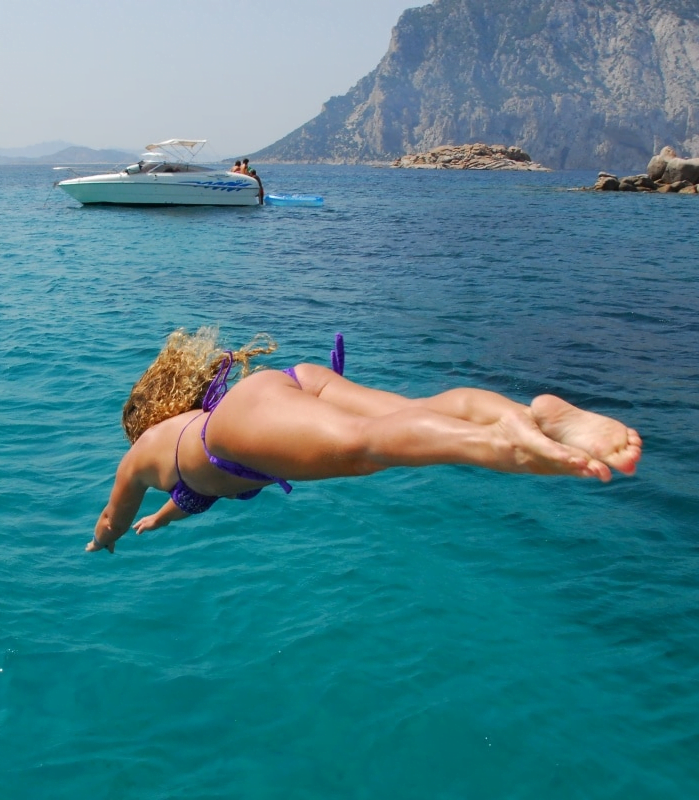 Hen and stag party packages
Choose DST Sardegna to organize your hen party, a boat trip for a bachelor party in the Tavolara Marine Protected Area and Punta Coda Cavallo with dolphin watching, lunch on the island of Tavolara, swimming in the natural pools of Molara and diving in the beaches most beautiful in the area. Choose the package you prefer from our proposals.
You can enjoy some fun in a lovely sea while having a party with your friends. Our team specializes in providing you with access to many exclusive beaches and activities, places that you and your guests can enjoy while partying.
What to do for hen and stag parties
Se stai organizzando un addio al nubilato al mare ecco alcuna attività che da valutare che possiamo organizzare per te:
trip to the islands of Tavolara and Molara
baptism of the sea for all participants
exclusive lunch on the island of Tavolara
Brunch at Porto Taverna
dolphin sighting with aperitif on the boat at sunset

Contact our team and agree on the activities you want to do to make this event unforgettable. We will build a perfect day together.
Ecco alcuni suggerimenti per una gita in barca divertente e memorabile:
choose a theme: you could choose a theme for the boat trip, for example "pareo party", "tropical party" or "pirates of the Caribbean". This way, you can create a festive and engaging atmosphere throughout the day
invita le amiche: invita tutte le amiche della sposa per partecipare alla gita in barca. Assicurati di pianificare la data con anticipo in modo che tutte possano partecipare
crea un kit per le partecipanti: prepara un kit per le partecipanti con oggetti come cappellini, occhiali da sole, accessori per i capelli, crema solare e tutto ciò che può essere utile durante la giornata in barca. Potresti anche includere un regalo speciale per la sposa
organizza giochi divertenti: prepara alcuni giochi divertenti da fare durante la gita in barca, ad esempio indovinelli o quiz sulla sposa. Potresti anche organizzare un concorso di danza, una simpatica esibizione di nuoto sincronizzato e anche una gara di canto
prepara il cibo e le bevande: prepara uno snack leggero oppure organizza un aperitivo a bordo. Non dimenticare di portare bevande fresche, come cocktail o vino, per brindare all'addio al nubilato. Se lo desideri chiedi al nostro team, possiamo concordare e organizzare tutto il necessario
add a special stop: organize a special stop during the boat trip, for example a stop at a secret beach at Capo Figari or dolphin watching at Figarolo Island. This way, you can make the day even more memorable.
Ricorda, l'obiettivo principale di un addio al nubilato è di divertirsi e creare ricordi indimenticabili con le amiche della sposa. Assicurati di pianificare la gita in barca in modo da soddisfare le esigenze e i gusti di tutte le partecipanti.
Remember, the main goal of a bachelorette party is to have fun and create lasting memories with friends. Make sure you plan your day on the boat appropriately for all participants.
Contact our team and agree on the activities you want to do to make this event unforgettable. We will build a perfect day together.
PADI Master Instructor 929059
Register of diving instructors Region Sardinia, n.525
PADI Instructor 945044
E. F. R. Instructor
Register of diving instructors Region Sardinia, n.874
Dolphin watching excursion in the bay of Golfo Aranci, an unmissable tour for adults and children aboard comfortable rubber dinghies
Dolphin Watching + Snorkeling
Snorkeling excursion with guide, to discover the island of Figarolo and Capo Figari, with dolphin sighting and stops for a swim
Guided snorkelling in Tavolara
A tour to see the Marine Protected Area and swim in the natural pools of the Island of Molara. Stop on the island of Tavolara included